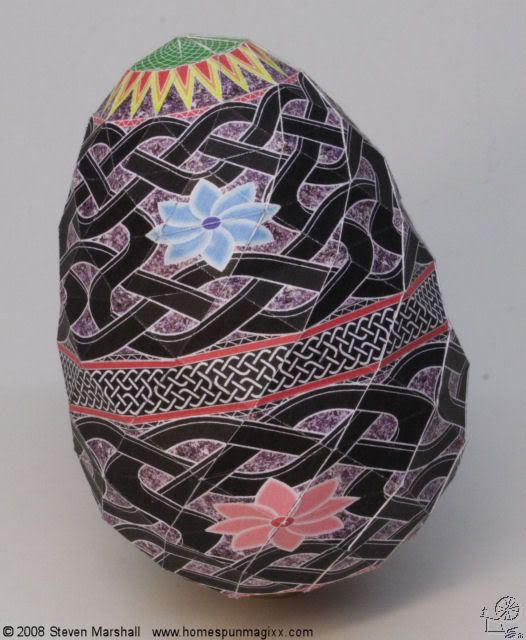 easter is coming and it's time for easter eggs. steve marshall of homespunmagixx has created delightful easter eggs. what's good is you can pimp it out and put your own unique color as two of the easter eggs has a separate pdf download "To Color Yourself".

pdf file has 5 "strips" which you need to print 2 copies. no need for instructions since the tabs of the "strips" are numbered and you just need to glue them in sequence. same number tabs must be attached before moving to the next number. i'll try this on my own.. sorta puzzling to see the "strips" formed into an egg! well that's the beauty of papercrafting right? we're always awed by the outcome of the cutouts and all those gluing and stuffs..hehe. me mumbling.

aside from the ukranian easter eggs series homespunmagixx has several papercraft freebies.

pysanka from wikipedia:
A pysanka (Ukrainian: писанка, plural: pysanky) is a Ukrainian Easter egg, decorated using a wax-resist (batik) method. The word comes from the verb pysaty, "to write", as the designs are not painted on, but written with beeswax.
paper model difficulty:
easy
number of pages:
1 page, print 2 copies
check it out at
http://www.homespunmagixx.com/puzzles.asp#egg2008
.